Skip to Content
Screened Porches Create a Private Oasis
When you hire KC Built to install a screened porch, you get high-quality craftsmanship, experience, and skill. We can transform your outdoor living space into a private oasis with a brand-new screened porch where you can relax and enjoy the outdoor views, enjoy a meal with your family, or read a book while basking in the outdoor air. With a variety of styles for you to choose from, we can design and install a screened porch that is personalized to your needs. We can also ensure your new screened porch is built of only high-quality products and materials. We offer your choice of roof style, interior, and exterior finishes, as well as floor and ceiling materials.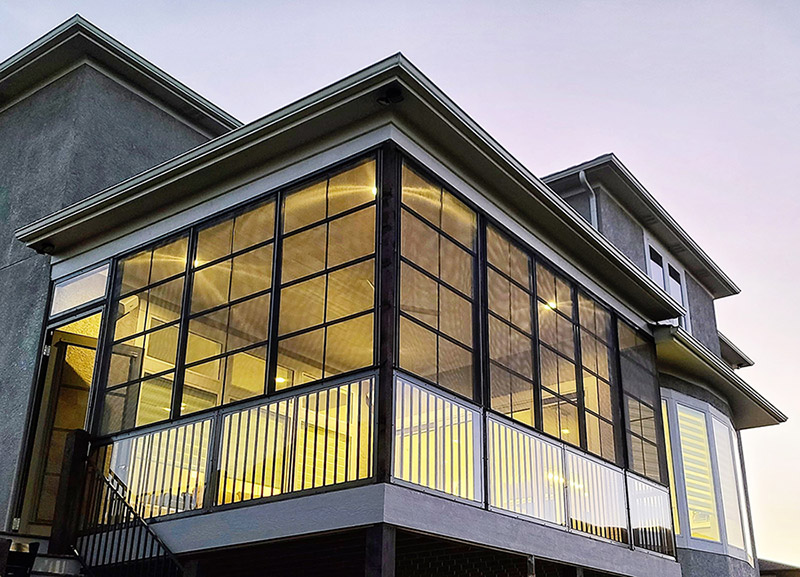 Sunspace Sunrooms Add Value to Your Home
Sunspace sunrooms offer a haven from weather, bugs, and UV rays without sacrificing gorgeous views. With Sunspace vinyl porch windows, you can have the sunroom you've always wanted. With a sunroom you can enjoy the outdoors without common outdoor annoyances while increasing the value of your home. Add beauty and comfort to your home by installing a Sunspace sunroom today! Get a Sunspace sunroom installed and join thousands of satisfied families and businesses enjoying the value and style these sunrooms offer. Call KC Built today to get a free estimate for your new Sunspace sunroom.
Why Get a Sunspace Sunroom?
There are many benefits to adding a Sunspace sunroom to your home. In addition to preserving the feeling of a screened porch, these sunrooms are created with Sunspace vinyl porch windows, a window type that is lightweight and easy to operate. Ease is what we all look for in our day-to-day lives, and these windows are easy to remove, clean, and care for. Made from sturdy aluminum frames that stand up to temperature and humidity fluctuations, Sunspace vinyl porch windows will ensure your sunroom works well and is one of the most stunning features in your home. KC Built can customize the size of these windows to fit your needs. Give us a call today and we'll get you set up with a Sunspace Sunroom.
Request a Design Consultation