Skip to Content
Your Premier Covered Deck Builders in Kansas City
If you've been thinking about adding on to your Kansas City home, contact the experienced team at KC Built for a custom covered deck. Whether you wanted to add a cozy space to eat breakfast, a quiet area to read, or a convenient place to bird watch, we can create it with a custom covered deck. As the perfect addition to any home, a covered deck is a cost-effective solution to expanding the interior of your home. Since your deck will have a roof to protect you and your belongings from the elements, you can enjoy this addition to your home year-round. Learn more about our deck building services and how we can create a covered deck that is a seamless addition to your home.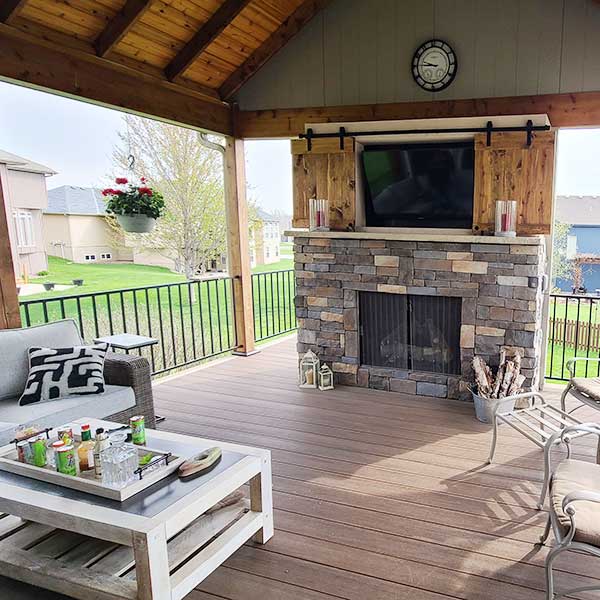 Enhance Your Living Space with a Covered Deck
A covered deck provides you with an additional space to decorate and fill up with whatever you please. Whether you want a cozy area you can utilize year-round or extra shade for your deck in the summertime, we can assist. Moreover, a covered deck can be adorned with stunning beamed ceilings and recessed lighting that create the perfect backyard oasis. Not to mention, a covered deck gives homeowners the option of introducing ceiling fans, heaters, and many more customizable features to your new outdoor space. We custom create your deck to ensure it perfectly matches up with your established aesthetic, or current design needs. No matter the look you want, we have the skills and dedication to deliver.
Add Value to Your Space
Covering your deck with a full roof not only looks and feels luxurious, but it also adds to the value of your home. With a covered deck, you and your family can enjoy your beautiful deck, no matter the season. And when it comes time to sell your home, potential buyers will remember the added element of luxury your home possessed due to your high-quality covered deck. Who wouldn't love the option of having an area that encompasses the best of both the indoor and outdoor worlds. With a full roof over your home's deck, you and your family will be covered from inclement weather and can even add heaters to the area to keep things extra cozy. No matter what you decide, a covered deck is something any household can enjoy for years to come.
Request a Design Consultation