Skip to Content
A New Pergola Will Add Elegance to Any Outdoor Space
As a growing new trend, pergolas make wonderful additions to any home, deck, or yard. With a variety of classy and elegant styles and materials, KC Built can help you discover the pergola that fits your unique needs. Whether you want to incorporate natural or synthetic materials in your design, we'll ensure your pergola is built to suit your needs and preferences. A pergola is an excellent option for anyone seeking a balance of shade, ventilation, and light, with several design options available. Contact KC Built to add a little architectural flare to your home, deck, or yard with a new pergola!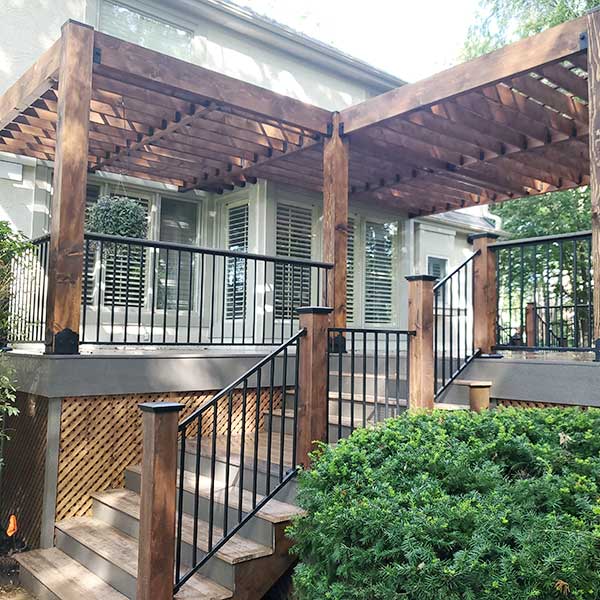 Pergolas Have Many Beneficial Qualities
Whether you want an open, elegant space for intimate outdoor gatherings or a comfortable place to sit and relax, a pergola is a perfect option. As a versatile and beautiful piece of architecture, pergolas act as a seamless extension to any home, deck, or yard. A pergola will provide the perfect amount of shade to any outdoor living space and can be customized to cater to your unique needs. Pergolas built by KC Built have many beneficial qualities, including:
Less maintenance
High-quality and durable
Available in several sizes, shapes, and finishes
Affordable and easy to design
Customizable to perfectly fit your needs
Louvered Roofs Are Pergolas Reimagined
With many similarities to pergolas, louvered roofs are made with high-grade aluminum which makes them low-maintenance, durable, long-lasting, convenient, and versatile. As an exceptional addition to any outdoor living space, louvered roofs are often viewed as the modern shade solution. A louvered roof can beautifully complement the architecture of your home and contains a plethora of product and design options. KC Built can build a louvered roof at your home to meet all your protection or ventilation needs. Louvered roofs can also be seamlessly integrated with smart-home technology!
Request a Design Consultation